Welcome to the (unofficial) website for the village of Molash, Kent, England.
Molash Blossom Ride 2023 - HAS BEEN CANCELLED due to wet weather conditions on the route.
The safety of horse and riders had to be taken into consideration.
For the Molash Parish Council website see: Molash P C -
The Molash P C site is now the main website for NEWS and EVENTS
Molash is a scattered rural community surrounded by farmland and next to a forest (King's Wood). There is a pub, garage and church. The population of Molash is about 230; it is situated between Canterbury (8m), Ashford (8m) and Faversham (8m).
Molash Church was built in the 13th century and was probably built on the site of an earlier church. The yews in the churchyard are 2,000 years old. Apart from being a working church there are also concerts and arts festivals organised. It is one of the stops in the Five Church Walk.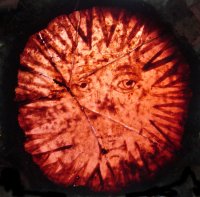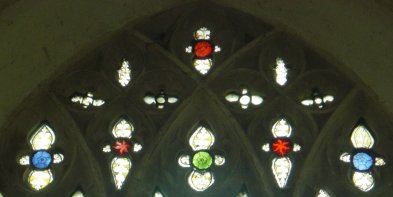 A face from Molash Church, stained glass, C14 or earlier, N. Wall of Nave, Centre Window, top red central pane.
Click on the face for a larger view.
---
For the Molash Parish Council website see: Molash P C -
This site is now the main site for NEWS and EVENTS
For the Challock website see: challockparishcouncil.gov.uk
For the Chilham website see: www.chilhamparishcouncil.gov.uk
In the links listed below you will find more information for and about the village, its church and activities:

Neolithic Flint axes - found in Molash
If you have any comments and/or wish to add any material please send email to: Paul Brewin
BUT for news, to post events etc please go to:
Molash Parish Council website: Molash P C