In September 2010 I started to dig out the foundation for a concrete path in my garden. As I was digging I noticed an unusual piece of flint. Picking it up I could see immediately it was axe shaped; I cleaned it off and found it was a beautifully polished piece of flint, nearly six inches long, and which could not have been accidentally formed. An Internet search showed that it might be a Neolithic, or New Stone Age, axe (Axe 1). That is, at least 4000 years old! I sent a picture of it to a friend who is a trained archaeologist - Friederike Hammer. Friederike also thought it was Neolithic (c. 4000 - 2000 B.C.). She suggested I take it to the Canterbury archaeological team, which I did, and they confirmed that it was probably Neolithic but a "one off" - dropped by a Stone Age man - as the majority of such finds tend to be.
From then on I dug a little bit more carefully (!) but did not find anything except a nice small blade (Blade) obviously used for cutting or skinning. However, a few days later I looked more closely at the site of the first axe and found two more axe heads! (Axes 2 and 3). All three axes lay very close to each other but the last two were actually under the concrete foundation of my shed. This was getting serious. I contacted Friederike and soon after she came to Molash to help me dig and sort more methodically. We discovered several fragments of flint that could well have been flakes from a stone tool production. We did not find anything more significant (so far).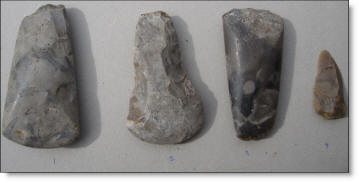 (All photographs Copyright © Paul Brewin, all rights reserved, 2010)

Neolithic polished stone axes
These were made in their thousands all over Britain and used for wood clearing as Neolithic man began to settle and grow crops and graze cattle. More wood clearing was done than at any other time in our history. Polished axes were not produced until late Neolithic times (4000 to 5000 years ago) and made the axe stronger and easier to cut wood. However, highly polished and worked axes may have been used for other purposes - trade, ceremonies, gifts etc. The axes I found appear not to have been used so they may come into this category.
Molash is on a flint hill - if one walks the fields around here, as local people know, there are billions of flint stones, fragments, chips, etc. The Norman church at the end of Church Lane is built of flint. So it seems highly probable that the area was used for a very long time for flint work and production. There is a major Neolithic site quite close by at Chilham - Julliberrie's Grave - a Neolithic long barrow and sites have also been found in Kings Wood.
(I have reported the find to the archaeological finds officer for Kent).
Paul Brewin, Molash, Canterbury